A Scottish dish that ranks second on the list of dishes – right after Haggis. The first mention of this dish was already found in the 18th century. A simple snack, yet subtle and with character. Ball, seasoned minced and breaded meat in breadcrumbs or cornflakes. There would be no wonder in this "ball" if not for the fact that there is a surprise inside – a soft-boiled egg !! This, such a meat egg surprise for adults. Tasty lies in simplicity, but if we choose other meat for this egg and additionally wrap it in bacon and then coat it … then it can come out quite a tasty egg.
I have already practiced various variants of this dish. Both, I changed the types of eggs, meats and the composition of the coating. The addition to the egg should be sauce, and there are several options. Horseradish or mustard is probably a classic but Dutch with the addition of English mustard or chilli – it's another shelf of pleasure.

4 large eggs
275 g of minced meat
1 teaspoon fresh thyme
1 tablespoon of fresh chopped parsley
1 shallot
1 clove of garlic
salt and freshly ground black pepper

125 g flour
1 egg
50 g breadcrumbs
100g cornflakes
At the beginning, we should boil the eggs in well-salted water; or with the addition of a teaspoon of baking soda. The eggs will then be easier to peel.
So, we cook eggs no more than 6 minutes after boiling the water. Remember to dip eggs in water exactly when the water is bubbling. We want the egg yolks to have a liquid consistency.
Boiled and cooled eggs, peel gently and dry with a paper towel.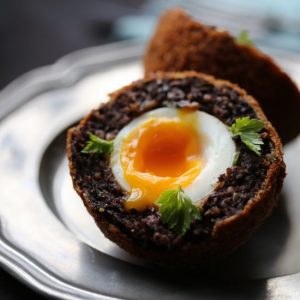 The meat part looks just like we do Our minced chops. Fry the cap and shallot gently on a tablespoon of butter and then combine with minced meat. Season with thyme, parsley and classic salt and pepper. We divide the meat into four and make a thin round cake for each serving. In the middle we put our egg and wrap it so that it tightly envelops our egg.
The next stage will be coating of Scottish Eggs. We combine crushed cornflakes and breadcrumbs.
Further procedure is standard. We start with flour and finish with breadcrumbs.
Fry the resulting eggs in deep fat until they are dark golden. Then we will be sure that the meat is properly fried.
A nice way is also to wrap eggs with meat in thin slices of bacon before coating, but this is already a higher taste school.
By continuing to use the site, you agree to the use of cookies. more information
The cookie settings on this website are set to "allow cookies" to give you the best browsing experience possible. If you continue to use this website without changing your cookie settings or you click "Accept" below then you are consenting to this.