25g of melted, classic Lurpak butter
2 kg of pork tenderloin
a handful of sea salt
a handful of black pepper
5 bay leaves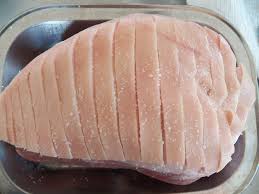 A few hours before the start of cooking, remove the sirloin from the refrigerator to bring the meat to room temperature.
Before putting the meat in the oven, pour boiling water over it and dry it with a paper towel. Thanks to this, the skin will be crispy after baking.
Cut the skin (approximately every 7 mm) with a very sharp knife. Make sure you only cut through the layers of fat, without affecting the meat itself.
Then massage the salt into the meat (make sure the seasoning gets in through the cuts on the skin) and let the pork rest for 45 minutes.
Preheat the oven to 200 ° C, then season the meat with salt and pepper and put the bay leaves on top. Put the pork on a baking sheet and put it in the oven.

If the meat is not the same thickness along its entire length, use a rolled piece of aluminum foil to level it so that the skin browns evenly. Bake the meat for 1 hour 15 minutes. After this time, brush them on top with melted butter and put them back in the oven for 15 minutes, until the skin is crispy. After removing from the oven, let the meat rest for 15 minutes. Serve with potatoes and red cabbage for an authentic Danish flavor. Pour the juice from the pan into a saucepan, add a tablespoon of butter and then add flour. Pour the sauce over it.
Due to the fact that I worked there and I was involved in Danish society, I have to tell you that this pig is good even without potatoes. I have never seen a burger like they make anywhere in the world. They put two slices of hog in the bread rolls and some red cabbage, pickled red beets or onions. Plus a remulad and a Carlsberg liter. You will get every Danish women if you serve it to her … and even Danish man as well 🙂