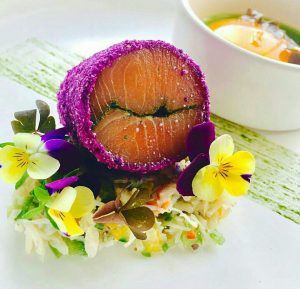 "Laks" in Norwegian means salmon. The most recognizable dish in the world is Gravlax. This fish is a traditional snack in Scandinavia, served with potatoes or dark bread.
The basis for making the classic Gravlax is salt and sugar. They flood the fish with plenty, and leave it in a cool place for 2-3 days. Often, however, salmon is enriched with citrus fruit to enhance its taste.
I'll show you some methods to make cool dishes straight from Scandinavia.
Gravlax with lemon and dill.
Gravlax with coriander and lime:
It is not a sensation that experienced chefs like to experiment and look for new flavors. Aesthetic values ​​are also important, and in order to increase the color value of the fish, natural ingredients are used, which is why Gravlax with beets looks like this:
… and Gravlax with red cabbage looks like this:
The best of the best went a step further and grabbed the noble alcohols. This salmon pickling can use brandy, cognac and even gin. This clearly evokes the taste and value of the food, although in these cases the plates should be considered with additions to the salmon. Too intensive additives can suppress the delicate taste and aroma given by alcohol.